We are here to help you realise your vision and to add great value to your project. We understand that you may have never undertaken a building project before, and we are here to support you every step of the way.
Extensions, new houses and refurbishments can all be daunting, often involving substantial sums of money as well as many hours of your time and effort. We are an RIBA chartered practice, which means your architect has undertaken seven years of training (view Matt Lowther's experience here – opens in a separate window); no other building industry professional is trained to such high levels of expertise, so architects are well placed to guide you through every aspect of your project.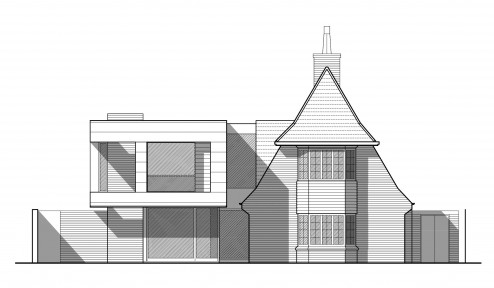 House extension, Letchworth Garden City

We are not only designers, we are organisers. We can manage your project from the outset, ensuring that the design programme is kept on track. We can also take the lead role in the administration of your construction project on site (see "full architectural service", below), monitoring and checking the work as it progresses through to completion.
In short, we are here to help.
Planning applications and pre-application advice
First of all we can help you to establish whether or not planning permission is required or whether your project is Permitted Development. We can make a request for pre-application advice, to gauge the position of the local authority. We can then advise which application will need to be submitted and confirm timescales for the decision process. And of course, all of the drawings, application forms and ancillary documents in support of the application will be taken care of.
The submission of the planning application represents a significant milestone for your project. In terms of external appearance, at this stage the design is finalised and unless otherwise conditioned as part of the approval, the scale, height, proportions, window positions and materials etc. are now frozen. The 8-week statutory period (typical for residential projects) for the determination of your application will begin from the date of validation. Following approval, if given, we can advise on how and when any conditions should be discharged and take care of all the paperwork for you.
Building regulations applications
With planning permission in place, it's time to think about the detail. The next hurdle is obtaining approvals from Building Control. This is the body that oversees the construction of your house, sometimes from the local authority or perhaps via an approved inspector. Building Control will assess the application and review the technical details of the submission to make sure that the proposals are in accordance with current building regulations. 
Building Regulations apply in England & Wales and promote standards for most aspects of a building's construction; including its energy efficiency, accessibility, structure and fire safety. The majority of projects that Workshop76 are involved in require building regulations approval, although some do not. We will be happy to liaise with the council on your behalf to establish what approvals are required for your project. You can also visit the Planning Portal on line to find out more.
Party Wall Notices
There are certain situations when you are legally obliged to serve any neighbours who may be affected by your construction project with a Party Wall Notice. In other words, not all projects will involve Party Wall Notices. We are in a position to advise you as to whether or not this is likely to be a requirement for your project, and as always we are more than happy to organise the paperwork as part of our appointment. Please note, however, that Party Wall disputes can be complex and we would always recommend the services of a surveyor with expertise in this field.
Full architectural service
If you are looking for greater control over the cost of your project, or want to have somebody who can not only provide you with an inspiring design but also to guide you through the various processes and stages of your project, then you may want to consider a Full Service.
A Full Service speaks for itself; your architect will be involved right from the beginning, helping you to formulate a brief, preparing layout and design options, submitting the proposals to the planners, arranging Party Wall Notices where required, advising on the appointment of other consultants, preparing building regulations drawings, preparing tender documentation for pricing, reviewing tenders received, making site visits, organising certificates… construction can be complicated.
The advantage of a full service, including the establishment of a contract between yourself and your builder, is that every last detail of the construction can be designed and specified before the builder commences work or even prices the job. This gives you greater cost certainty and ensures that there are facilities in place to help keep the project on track once it has been handed over to the builder.
A full service will invariably require a significant amount of time and input from your architect, but the reward for this additional expense on professional fees will almost certainly become apparent when the project reaches site; potentially saving you a great deal of time, aggrevation and cost often encountered without such a resolved and well coordinated design in place.
If you would like further advice on the advantages of this approach, please do get in touch. To give you an idea of the various stages of a typical project, please refer to this RIBA web page.